Display Challenge Coins
Three Unique Ways to Display Challenge Coins
If you or someone you love works in the Armed Forces or as a first responder for a fire or police department, you probably are familiar with challenge coins. For those who don't know what they are, challenge coins are commemorative coins given to someone at milestones of their career or as a result of exemplary service. Many armed service members, veterans, police officers and firefighters have collections of challenge coins - often just stuffed into a drawer somewhere. There are also many collectors of these coins who are military history buffs. And finally, family members of those who have made the ultimate sacrifice have contacted us because they have their loved one's challenge coin collection that they want to display in order to honor their family member. Because these mementos are meaningful, and beautiful, they really are meant to be displayed, rather than hidden away! And all three of our challenge coin displays will keep those beautiful coins away from dust and exploring hands, but still keep them visible for all to enjoy.
Challenge Coins come in different sizes and designs
If you have just a single coin, a wonderful and unique way to display it is with an acrylic or brass stand tucked underneath a glass dome.
The brass stand under a glass dome
makes for a particularly striking display. The larger size of the glass dome which can accommodate the size of the brass stand allows the coin to "levitate" in the center, which really calls attention to it. Plus, with this type of display, you can see all sides of the coin. This is important, because challenge coins are typically double sided, with text and artwork on both sides of the coin. Alternatively, for a less sizable display,
an acrylic coin stand under a smaller glass dome
is perfect! While the side of the coin facing out is really on display, you can still see a glimpse of the back of the coin with this type of stand. One other great thing about these coin display domes is that they are available with lazy-susan bases, so once your challenge coin is set up in the coin display dome, you can swivel the entire display to see it from every angle.
Fine Home Displays
also has
larger domes available with acrylic shelves and stands
 for larger challenge coin collections - and they are also available with lazy-susan bases for full 360 degree viewing.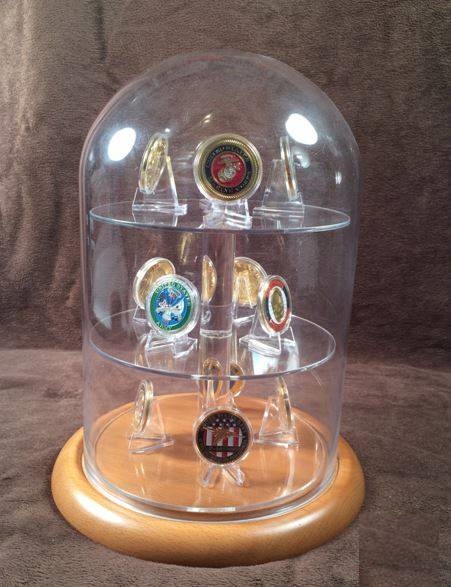 Glass domes are so elegant that they lend themselves to this type of display. As luck would have it, all of these display are economically priced too. In fact, you won't find this type of display for these prices anywhere else on the internet.
The one caveat with glass dome displays for challenge coins is that they have to be set on a table top or shelf. For a more versatile display that is still unique, we like to recommend our line of
Nimbus display cases
. These cases look like picture frames and can be hung on a wall, or displayed standing on a shelf or table top. It almost looks like magic when you see the coins floating in the center of the frame, but there is some science behind this display! The frames open up to reveal two thin pieces of silicone film attached to both sides of the frame. Once you have the frame open, all you have to do is lay your coins inside, and then shut the frame. It helps to use
coin capsules
with these frames to keep the coins in place.
Coin capsules
also help to further protect the challenge coin - especially if they are handled at all. Once the frame is closed, it also helps to rub the silicone film against each side of the coin. This helps the silicone to adhere to the coin or coin capsule and hold it in place.
If there is a larger challenge coin collection to display, we've got the perfect display case - something really unique and beautiful! We work with a case builder who had the best idea for displaying coins in a sort of shadow box frame. But as you know, with shadow box frames, the item on display is inside the box, and is only hit with light on the top of the item, so sometimes it's difficult to see details. And challenge coins have lots of detail to them!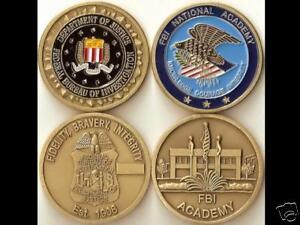 In order to make sure that the display has the most light, he designed a
shadow box frame
where the glass is not a sheet of glass, but instead a box of glass that sticks out from the front of the frame - sort of like a window box on a house. And he will even make custom sizes, so
let us know your specifications
, and we can get a price quote for the case that will perfectly house your collection.
So there you have it! Three great ways to display any size challenge coin collection - from a single coin all the way up to the sizable collection that's been in the making for years. If you collect coins or medals let us know how these displays would for you. Or better yet,
send us a picture
of your collection - we'd love to see it!