Mirror Backdrops, Mirror Displays, Mirrored Glass Display
Use mirror backdrops as accents to your collectibles and decor.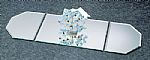 Mirror Placemats, Mirror Tablemats, Table Runners, Mirrored Glass
Create a beautiful table for entertaining with mirror tablemats and displays.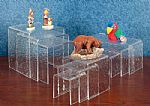 Risers, Mirror Riser sets, Mirror Glass Displays
Create multi-level displays with acrylic and mirrored risers.